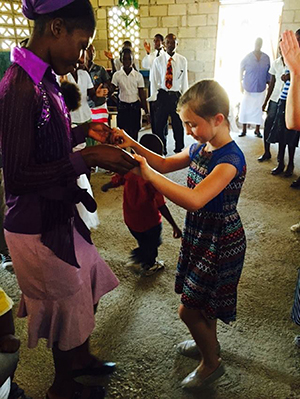 Several years ago, the Bigarade community in Port-au-Prince was just a flood plain. Now, more than six hundred homes cover the landscape, and children run down the dirt roads to their very own school.

Earlier this year, there was a new face at the school, though one who's very familiar with its story. At nine years old, Mackenzie Howell has been working to renew hope in Haiti since 2011, when she saw a documentary about the devastating earthquake that rocked the country the previous year.

Four years after she started raising money to help kids and families there, Howell visited Bigarade and the school she helped build. "Seeing the kids" was what she looked forward to most before the trip, and was also her favorite part of being in Haiti, she told the Illinois Baptist newspaper.
"She really does care about this," said Howell's mom, Alison, who also went along on the trip led by Bob Elmore, who facilitates the Illinois Baptist State Association's short-term mission teams in Haiti. The Howells, who are from Nederland, Texas, met Elmore through International Mission Board missionaries working in Haiti after the earthquake. Howell sent her first donation – $1,400 raised through a coin drive at her preschool and a bake sale at church – to the missionaries to help with construction projects. They connected her with Elmore. Since her first project, Howell has raised more money with several other initiatives, including sales of "Leila's Big Difference," the book she wrote and published in 2013. Elmore, several teams of volunteers, and Haitian workers have turned Howell's gifts, along with other donations and resources, into a school for more than 100 children in Bigarade.

The school property was vacant in November of 2011, when Elmore first saw it. "It was a goat field then … we just kind of wrote it off," he said.

When he returned the next spring, a local Christian man named Thomas had gotten permission to put up a tarp and bamboo school on the site. People on Elmore's mission team were asking, "What can we do?"

That fall, after receiving an anonymous donation to purchase the land, Elmore took a team to Bigarade to start construction on the school. At least eight Illinois churches and associations helped with the project. The facility now doubles as Gosen Church.

Bigarade is an "instant community," Elmore said, a product of the earthquake that drove people from where they were and forced them into new living situations. Before the school was built, kids were either walking to another community or not going to school at all.
Working in the school was one of the main objectives for Howell and her team. They came prepared to do a two-hour lesson each day with crafts, and to provide lunch for the kids on three days.

"Our ultimate goal is to start a feeding program where the kids can have lunch every day," Alison said a few days before her team left for Haiti. It just seems like something God would want them to do, she said, to feed His children. The team took with them enough money to start construction on a kitchen for the school, and also a classroom for the youngest students.

Thomas, who put the early school on the property, is now headmaster, and students arrive every morning in blue and white uniforms. Once a goat pasture, the school now employs seven teachers, and has 114 students. The feeding program will employ two or three cooks and purchase food from local sources, Elmore said.

Complete God
"... It was such a blessing to watch her," Alison said of her daughter during the trip. "She really grew throughout the week." And Howell's not finished with Haiti, not by a long shot. She wants to go back – soon. And she's planning a second book.

"It's going to be about Leila [meeting] a white girl that came from the U.S. to visit her school and help out with the school and do crafts and stuff, kind of like how I did," Alison said.

Recently, Howell shared about Haiti with kids in her church's Awana program. Her grandmother, who also was part of the March trip, came out of the room crying, Alison remembered.

"Whatever you do, don't practice with her," was the grandmother's advice for Howell's future speaking engagements. "... She had them laughing and crying," Alison said. "It's because it really does come from her heart."

In Haiti, March 14-19, Howell taught her new friends a dance she had choreographed in honor of their country to a song with special meaning there, "I Am Not Forgotten." Watching, Alison said, "It was just such a beautiful picture of how complete God is."

"So many times, we give to missions or do this and that … but we don't always get to see the fruits. I just continuously thank God that's he's allowed us to see so much of the fruit of his work."